CASHMERE CARE
TAKE CARE OF WHAT MATTERS
Like all beautiful things, cashmere requires a little attention and patience.
In water, at a maximum of 30°C.
In the washing machine, using the program for wool.
Frequent wash inside out.
Use a neutral and natural detergent.
Do not wring.
The naturalness of the fiber requires a good humidity rate. The abundance of water, in addition to purifying the excess fiber during the first washes, allows the garment to keep its softness and elasticity intact. Frequent washing is therefore your new cashmere garment's best friend.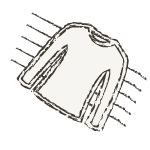 Do not hang the garment to prevent it from losing its shape and fit.
For proper drying, spread it out, preferably on a cotton towel.
Do not expose it to direct sunlight which, if too direct, could ruin the color.
We suggest ironing the garment inside out, at low temperature.
Scarves can be steam ironed at a distance of about ten centimeters.
Too-high temperatures can ruin the fiber.
Keep your garment as good as new by storing it in a dry place and using a good moth repellent.
For help, contact our customer service or write to info@tassellicashmere.com